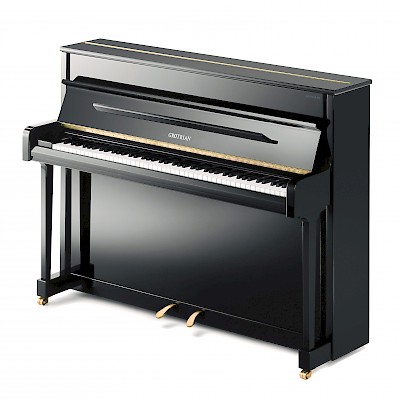 New 118 upright model from GROTRIAN
The traditional piano maker from Braunschweig launches its new upright piano Carat 118 at Frankfurt Music Fair 2016.
From April 7th to 10th 2016 the world's largest Music Fair will open in Frankfurt. Up to 70.000 music lovers from all over the world are expected. "A worthy setting to present our NEW upright with a height of 118 cm of the traditional piano maker GROTRIAN to a wide audience", states Burkhard Stein, CEO of the company which looks back to more than 180 years of tradition.
The upright piano model Carat has been developed under the influence of the latest developments and research with the aim to intensify the sound of this piano model in terms of colors. The cabinet design has been completely changed, too: The lid of the piano now is made of two parts. It can be opened much easier now while at the same it looks classier.
You can see the new GROTRIAN Carat 118 on booth E20 in hall 9.0 at Frankfurt Musikmesse 2016.
Every piano lover can play nearly the whole range of GROTRIAN instruments at booth E20 as all models from the Friedrich 111 to the stunning concert grand Concert Royal 277 will be ready.
An eye catcher will be the 192 Cabinet grand piano with a case made of Makassar wood high gloss polished combined with a silver iron frame and with chrome fittings. A beautiful grand piano!
Both new models and new sales strategies aim to increase the sales in the coming fiscal year by 10%. Currently 450 instruments per year are manufactured by 55 members of staff in the north of the city of Braunschweig in Germany; the export share is 70%.
The product range offers ten upright piano models in different designs at retail prices between 8.900,-- and 29.500,-- Euro and five grand piano models between 42.000,-- Euro and 125.000,-- Euro.